I've been showing you a few of my new leather bracelets that have been taking up so much of my time!! It took a long time to search out all the resources I needed. But I've been getting very good comments from friends and family. Now I needed to test the waters with them actually selling!! Only way I know to do that quickly and inexpensively is participate in a couple art festivals around town.  These people would be complete strangers and surely would not buy if they didn't like them!
So, off I go to my first show, a Fall Festival not far from where I live. I thought a small little festival would be the perfect place for me to get my feet wet (so to speak). After I signed up I asked how big they thought it would be as I needed to make enough inventory. Calmly the administrator says, "Well, we got over 2,000 people coming through last year." OMG!!!! OMG!!!! What did I get myself into!!!!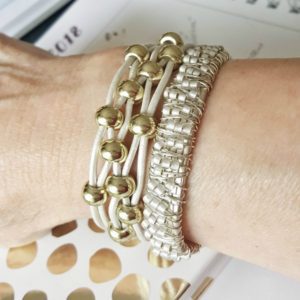 So that's where I've been from August to October when the show was. I spent 2 months almost completely in my basement workshop making bracelets in a variety of colors and sizes. Except for going to my part time job, I never saw the light of day! And guess what? Not a bad first showing!! I had enough bracelets, but not enough of the smaller sizes. I made a very respectable showing but could have sold more if I had more small sizes. The comments I received were so encouraging. People oooh'd and aahhh'd and told me how cool they were.  I'm very encouraged to continue on with them. And now I've even ramped up my own shop on my website!
Click here to go to the shop!
I'd also like to hear about anyone else's experiences in launching a new handmade item. What successes and/or obstacles have you had to deal with?