So you read my previous post on the 4 must have coat styles you need for winter.  And you finally bought a wonderful winter coat or coats. And they fit perfectly making you look fashionably up to date and keeping you warm at the same time. But you're not done yet!
What scarf and gloves do you wear with what coat? You can't go out in a sophisticated overcoat wearing a chunky knit scarf and mittens! You will need to choose accessories for your winter coats that match each coat's individual style. Don't worry. I'll help you to refrain from any impulse buying that won't fit the elements of your winter style.
These resources are affiliate links, which means I get paid a commission (at no extra cost to you) if you use my link to make a purchase.
Accessories for your winter coats
The elegant full length coat
If you're going out with a luxurious long full length top coat, you need accessories for your winter coat that are equally luxurious to finish off the style.
Typically these coats have an open neckline. Therefore, choose a thinner fabric scarf made of silk or cashmere so you're able to either tuck it under the coat or tie it around your neckline on the outside to accent the look just like the Pashmina scarf in the picture.
I also recommend dressier gloves, especially leather. They will keep your hands warm while looking more elegant.  If you're comfortable in hats, the Cloche Bucket hat below really tops off this coat style.

For the Pashmina High Style Scarf from Overstock CLICK HERE.
For the Color Block Knit Scarf from Urban Outfitters.
For the Cozy Fringe Scarf from Urban Outfitters.
The day to evening casual coat
You don't have to dress down to look great in these coats. They may be a bit casual but they still have great style and structure to look refined enough for evening.
The Gray Fringe scarf above fits the bill for any time of day. Plus the Isotoner Touchscreen gloves are great driving gloves which you don't have to remove for keeping in touch with friends. (Not while driving though!) If you still need a hat, the Newsboy Beret is very cool and casual at the same time.

For the Coach Short Leather Gloves
For the North Face Etip Gloves CLICK HERE.
For the Isotoner Touchscreen Gloves CLICK HERE.
The sporty outerwear jackets
While running around doing errands on a cold snowy day, a good parka/puffer jacket fits the bill. There are all kinds of options to accessorize and still look good. The colorful knit scarf above and the North Face Etip gloves will keep you warm and cozy. For hats, there are countless types of knit beanies but the Eddie Bauer Aviator caught my eye. It's just cute!

For Bellady Cloche Bucket Hat CLICK HERE.
For Eddie Bauer Aviator Hat CLICK HERE.
For SIGGI Newsboy Beret Hat CLICK HERE.
Fashion is what you buy, style is what you do with it.
Still trying to figure out your personal style? My first post in the series about how to unlock your signature style can help you start taking steps towards the new you.
You don't need expensive or trendy clothes to be you. Learn how  – click here.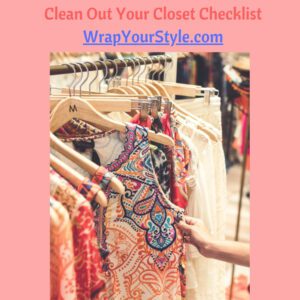 Time to purge your wardrobe? Download my clean out your closet checklist!!
Sign up below