DIY FREE Jewelry tutorial on how to make beautiful earrings?  Yes.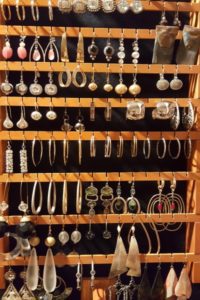 I make no secret that I love jewelry – Uh jewelry addict here. Especially bracelets. That's why I design my leather bracelets. But we can't live wearing only bracelets. We must have necklaces, earrings and rings. Now the one thing I won't leave the house without is a pair of earrings. My collection contains little plain everyday earrings plus all the way up to big bold large earrings. Some I only wear once in awhile. Others I wear so much they get worn out.
Sometimes I get a little colorful.
Once in awhile I will need a little color with my outfit. I found this tutorial that's ideal for making your own earrings with colored beads.  It's from a lady I follow, Rena Klingenberg, that puts out a newsletter filled with free jewelry tutorials. I think she is very generous to do this. She includes a link to Earring Wire Guidelines. Make sure to read as it is really helpful in choosing your wire.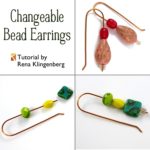 Changeable Bead Earrings Tutorial
Some of the resources below may be affiliate links, which means I get paid a commission (at no cost to you) if you use that link to make a purchase.
Her supply list includes the following with appropriate links:
Half-hard Copper Wire which you can get here on this link to buy.
Wire Cutters which you can get here on this link to buy.
Flat Nose Pliers which you can get here on this link to buy.
Nylon Jawed Pliers which you can get here on this link to buy.
Jeweler's File which you can get here on this link to buy.
Then also some Steel Wool for smoothing the wire.
Ultra-fine point Sharpie marker.
Beads with holes that fit your wire.
Thoughts about beads.
Of course you could buy beautiful beads at various bead shops or even craft shows if you like to go to them. But might I suggest that you probably have an assortment of your own old out of date or broken jewelry with great beads that you can recycle. After all, didn't you love them enough once to purchase?
I love going to the garage sales also to find some interesting pieces to take apart and use for my DIY jewelry projects. Just like I made in my previous post How to DIY Your Broken Jewelry.
If you try this tutorial, I'd love to know how your earrings turned out.
Please send me a comment or even a picture of your creation!