Description
Leather Bracelet Dark Blue with Gold Beads
This cool and crisp leather bracelet dark blue with gold beads will certainly give you a lift in your day. This unique statement bracelet is expertly beaded with brushed gold beads. It is elegant with a surprising touch of sass that can transition seamlessly from day to night wear. This will also make the perfect gift for a special someone on any occasion.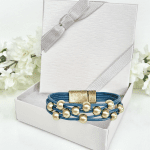 Delivered in a beautiful gift box.
My bracelets fit perfectly on your wrist.
Five glossy dark blue leather cords are accented with brushed gold beads to form a crisscross pattern that draws the eye to your wrist. The ends are secured with a matching magnetic closure. It is this striking combination of modern and classic jewelry that makes my bracelets so versatile. Additionally, each of these bracelets are custom made to naturally fit the contour of your wrist. This comfortable sizing method ensures your bracelet will not slide around and is a unique feature to my leather bracelets that have customers coming back again and again.
You have the option to choose a custom size, or you may use the drop down menu to select a size ranging from 6.0 – 8.0 inches.
Each of these pieces of leather jewelry are handcrafted in my smoke free home studio.