Description
Gray Leather and Gold Bead Bracelet for Women
This gray leather and gold bead bracelet for women was a custom request from a friend. I was curious about the color combination but it works. Everyone is wearing gray and gold in their jewelry and their clothes. It's just so fresh and new – I love it! Whether you are in business entering a big meeting or out for evening, everyone will see you wearing this dynamic statement bracelet with it's modern, fresh design and know you've got "IT". Additionally, this bracelet would make a wonderful gift to someone special for any occasion.
My leather beaded bracelets fit perfectly on your wrist.
Five glossy gray cords are accented with gold beads to form a crisscross pattern that draws the eye to the wrist. The ends are secured with a matching brushed gold magnetic clasp. It is a striking combination of modern and classic jewelry that makes these bracelets so versatile. Each of my bracelets are custom made to fit the oval contour of your wrist so they will not slide around and is a unique feature to my leather bracelets that have customers coming back again and again.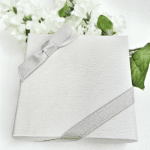 Delivered to you in a beautiful gift box.
You have the option to choose a custom size or you may use the dropdown menu to select a size ranging from 6.0 – 8.0.
All my leather bracelets are personally handmade.
I use the highest quality leather, beads and clasps.
This gray leather bracelet also is made with silver beads. To see this item click here.