Description
Pearl Cancer Awareness Bracelet Gold Trim Pink Ribbon Charm
Beautiful Pearl Cancer Bracelet
Pearl Cancer Awareness bracelet shows support to someone special going through or is now a survivor. Send them thoughts of hope and strength.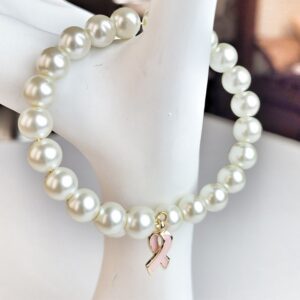 Pearl Crystals Bracelet With Gold Trim Charm
Handmade with Crystal Pearls beaded onto memory wire. Easy to get on and off, memory wire is flexible providing one size fits most wrists.
The pearls add a classic look. White pearls symbolize new beginnings, love and inner beauty.
Finishing touch is the pink ribbon charm with gold trim.
For best care of your Pearl Cancer Awareness Bracelet, avoid water, lotion, and perfume from touching your bracelet. Keep in a sealed air tight bag if you don't have an anti tarnish jewelry box.
To continue shopping for more gift ideas or other styles of my handcrafted leather bracelets, you may return to my Wrap Your Style shop by clicking here.