My neighbor and I have a great barter arrangement. It started when she got a new computer and couldn't figure out a few things. I went over and helped her. She asked if she could pay me. And I said sure!! Whenever you make your homemade vegetable soup, give me some! She makes great soup. And after a few times I figured out her recipe. Only she would freeze any leftover vegetables from dinners and then when there was enough she would make this soup.
I have dumbed-down the process only because I'm lazy. It's a quick easy vegetable soup recipe. So I just always have the ingredients on hand and when I want soup I can have it in a couple hours.
Plus this is really healthy. You know exactly what's in the pot. It's a great way to eat vegetables in the winter. I don't know about you but, as much as I love salads, I just don't want cold food in the winter.
Quick Easy Vegetable Soup for the Lazy Girl
Easy quick homemade vegetable soup.
Ingredients
1- 32 oz Chicken Stock
1-14.5 can Diced Tomatoes
1- Family Size Bag Frozen Mixed Vegetables
1 Cup Orzo Pasta or Acini DePepe Pasta (any tiny pasta will work)
1-2 tsp minced garlic or a couple cloves garlic chopped
Chopped onion or leeks - if you are an onion fan
salt and pepper to taste
Instructions
In a 4 quart soup pot add all of the ingredients
Bring to boil for 15 minutes
Then cover and turn off heat.
Just let the soup simmer on its own for an hour or more. Let the flavors blend together.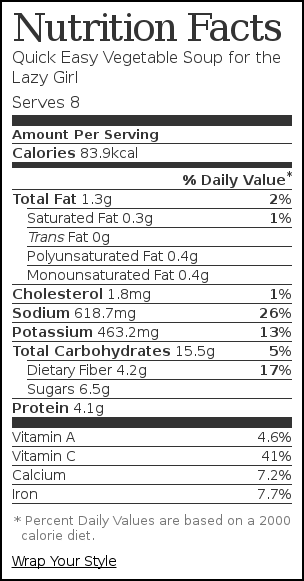 https://wrapyourstyle.com/easy-vegetable-soup/
This resource is an affiliate link, which means I get paid a commission (at no extra cost to you) if you use this link to make a purchase.
Click here for the link for the 4 quart soup pot.
A few extra tips:
when you save the extra soup the pasta will soak up the broth. It's handy to keep extra chicken broth so you can add some to your pot when you heat it up again.
try some different seasonings, like Worcester sauce or teriyaki sauce to zing it up a bit.
I also like topping the soup with Parmesan cheese, of course I put that on everything.
serve with a nice baguette or pretzel sticks, very good for dunking!